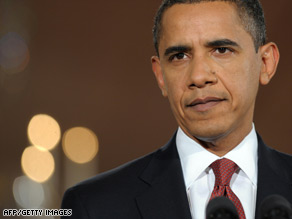 Yahoo.com:

President Barack Obama

, urgently pressuring lawmakers to approve a massive economic recovery bill, turned his

first news conference

Monday night into a determined defense of his emergency plan and an offensive against Republicans who try to "play the usual political games."

He said the recession has left the nation so weak that only the federal government can "jolt our economy back to life." And he declared that failure to act swiftly and boldly "could turn a crisis into a catastrophe."

"The party now is over," he said.

Speedy passage of legislation to pump federal money into the crippled economy, once seemingly assured with bipartisan support, has become a much heavier lift and a major test of Obama's young presidency. With more than 11 million Americans now out of work, Obama defended his program against Republican criticism that it is too big, loaded with pork-barrel spending and won't create jobs.
BO just doesn't have the look or aura of a man who happens to be the leader of the free world. It was thing one about President Bush, no he never a great speaker, but when you saw him you knew who was the man in charge. Bush had the poise and he knew how to control the crowd and manage the room. Obama looks down way too much, like he's nervous or better yet still searching for the words to one of his old campaign speeches. Notice too that he left the room as soon as his time was up, like he couldn't wait to get out of there. In three weeks we've seen that

look

too many times--one of a man on the job who can't wait to punch his ticket in so he and run home to the wife and kids. But this isn't AnyDude USA with a 9 to 5 job, this is supposed to this President.