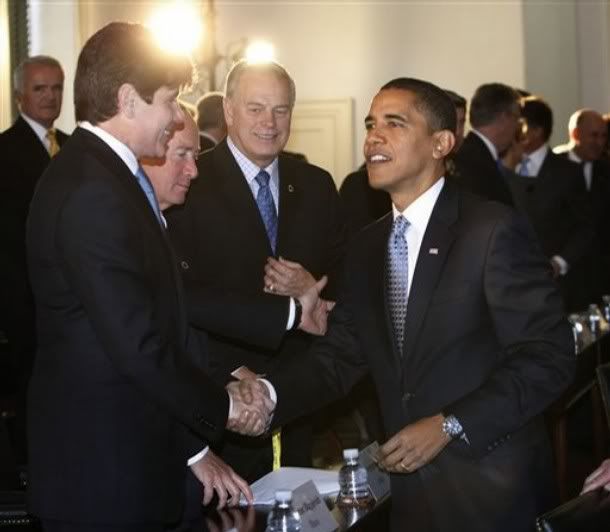 CNN.com:
Illinois Gov. Rod Blagojevich appeared in court Tuesday afternoon to hear federal corruption charges against him. He was released on $4,500 bail.




The Democratic governor, who appeared in court in a blue jogging suit, also had to forfeit his passport.

FBI agents arrested Blagojevich and his chief of staff, John Harris, early Tuesday on federal corruption charges related in part to the selection of President-elect Barack Obama's successor to the Senate, the U.S. attorney's office said.

U.S. Attorney Patrick Fitzgerald declared Tuesday a "sad day for government."

"Gov. Blagojevich has taken us to a new low," he said. "This conduct would make [Abraham] Lincoln roll over in his grave."

Lincoln was a congressman from Illinois before becoming president.

Fitzgerald said the government had bugged the governor's campaign office and placed a tap on his home phone.


Each was charged with a count of conspiracy to commit mail and wire fraud and a count of solicitation of bribery, authorities said.

In a 76-page affidavit, federal authorities said wiretaps caught Blagojevich conspiring to sell or trade the vacant Senate seat in exchange for financial benefits for himself and his wife, Patti.
The concerted effort by the liberal media to keep the truth about Barack Obama and all his corrupt Chicago cronies from the public, before he was elected President, is starting to backfire. Indeed, Blagojevich is a man with a long list of engaging in dirty politics, so much so that the feds have been on his ass for 3 years, yet, Barack Obama
still supported
Blagojevich's bid for re-election in 2006. Obama may've also have been dishonest about his
not having any
knowledge of Blagojevich trying to sell his now-vacant Senate seat seeing as his own campaign advisor, David Axelrod, earlier disputed those claims. Another corrupt Obama pal, Tony Revko, could be in the mix here, as well as noted Barack supporter
Jesse Jackson Jr
. How the Obama media covers this the Blagojevich/Obama connection will certainly be interesting in light of the fact that it is the President-elect we're talking about here and we all know that their fixation on corrupt GOP pols seems to never have an expiration date.