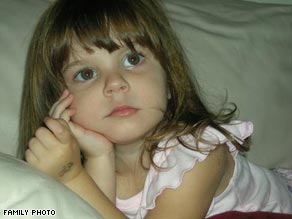 Tragic:
Investigators said Friday that they think remains found near a home where Caylee Anthony lived with her grandparents are those of the missing toddler.

But, they added, police and prosecutors are waiting until DNA and other tests are completed before making a positive identification.

Orange County, Florida, sheriff's spokesman Carlos Padilla gave three reasons for the belief the body is Caylee's:

• No other children have been reported missing in the area.

• The remains are consistent with a child of Caylee's age.

• They were found in close proximity to the home of Caylee's grandparents.

Caylee Anthony was 2 when she disappeared in June. Her mother, Casey Anthony, 22, didn't report her missing for a month and is charged with murder.

The first word that the corpse found Thursday had been tentatively identified as Caylee's came as her mother's attorneys sought a court order allowing them to observe the autopsy and conduct their own forensic tests.

Lawyer Linda Kenney Baden said in court that investigators told the defense team they "were proceeding as if this were little Caylee Anthony."

Strands of hair found with the remains, discovered Thursday a half-mile from the home of Caylee's grandparents, are the same color as the girl's, the lawyer said. The age and measurements also were a match for Caylee, Baden added.

Casey Anthony, 22, was charged in October with killing her daughter, but her lawyers insist that she is innocent.