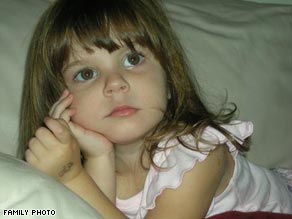 This story has fascinated me from the very beginning so yeah, this news is really disturbing:
The remains found in a wooded area last week in Orange County, Florida, are those of Caylee Anthony, authorities confirmed at a news conference Friday.

"It is with regret that I'm here to inform you that the skeletal remains found December 11 are those of the missing toddler," said Dr. Jan Garavaglia, the Orange County medical examiner.

The remains were confirmed to be Caylee's through a DNA match, authorities said.

Garavaglia said the cause of death was homicide, but she could not determine how Caylee was killed.

Casey Anthony, 22, faces charges including first-degree murder in the June disappearance of her daughter. She could face a sentence of life in prison if convicted. Prosecutors said this month that they would not seek the death penalty.

Authorities said they called the jail where Anthony is being held to let her know about the discovery.

Caylee's remains were found last week a half-mile from Casey Anthony's parents' home, in the area where a meter reader first directed police.

At the news conference, Garavaglia said that the remains were completely skeletonized and that no tissue was present. She said there was no trauma to the bones before Caylee's death.