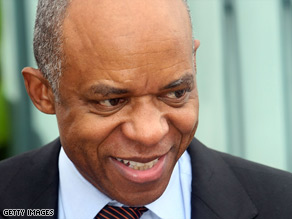 YahooNews.com:
The 2008 election year, overwhelmingly favorable to the Democratic Party, came to an improbable end Saturday as indicted nine-term Democratic Rep. William J. Jefferson lost his seat in Louisiana's 2nd Congressional District to Republican Anh "Joseph" Cao, a little-known lawyer. With all precincts reporting, Cao led Jefferson by 50 percent to 47 percent.

Although Jefferson's political shortcomings were glaring -- he is awaiting trial on federal corruption charges, including bribery -- the demographics of the New Orleans-based district still appeared to make him an overwhelming favorite for re-election. Jefferson has been one of the senior African-American members of Congress, and the black-majority district typically gives Democratic candidates about three-quarters of its votes.

But the very low turnout Saturday showed Jefferson was unable to persuade a sufficient number of voters to attend the general election, which was delayed to Dec. 6 because the scheduled Sept. 6 primary was postponed by Hurricane Gustav. Jefferson received just 25 percent of the vote over six Democratic opponents in the rescheduled Oct. 4 primary, though he did qualify for the general election by winning a runoff that coincided with the national Election Day of Nov. 4.
This is truly a shocker. I mean, as we've seen in the past with the re-elections of Marion Barry, Ray Nagin and most recently Willie Herenton, corrupt Black politicians usually get a pass from the black community because after all, they're

black

. And race matters much more to Black libs then such minor flaws as being an incompetent leader, or being downright sleazy or worse, being caught smoking crack in a hotel with your mistress. My guess is that all the notoriety from the $90k caught in Jefferson's freezer just finally did him in.