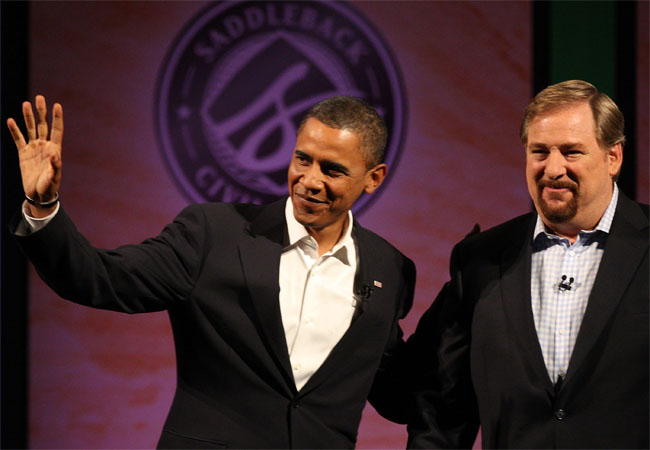 The hypocritical "tolerant" crowd is up in arms over Barack Obama picking Pastor Rick Warren to conduct the invocation on Inauguration Day. Mind you, Warren wasn't chosen for a Cabinet position, he's doing an oath for chrissakes. And like most priests who follow and represent what they're, yunno, taught from the Scripture, Warren doesn't support abortion or gay marriage. So if you're a simpleton member of the Left, all this means that Rick Warren is a bigot and Barack Obama, once the most liberal member of Congress, suddenly doesn't support "equality" and must be stopped at all costs:
President-elect Barack Obama this morning defended his choice of evangelical megapastor Rick Warren to deliver the invocation at next month's swearing-in, saying that although he differs with the conservative pastor on social issues, he wants to have diverse voices at the ceremony.

"I am a fierce advocate of equality for gay and lesbian Americans. It is something that I have been consistent on, and I intend to continue to be consistent on during my presidency," Obama said at a morning news conference to announce several financial appointments. "What I've also said is that it is important for America to come together, even though we may have disagreements on certain social issues."

Gay rights advocates and progressives denounced the decision to associate with Warren, an outspoken opponent of abortion rights, same-sex marriage and stem cell research, immediately after inaugural organizers announced the lineup for the ceremony yesterday.

The Human Rights Campaign sent a blistering letter to Obama (D) in which it called the choice of Warren "a genuine blow" to gay Americans, who supported Obama overwhelmingly in his race against Republican nominee John McCain.
No doubt since most liberals don't believe in God anyway, they'd probably all vote for tossing out the invocation altogether.