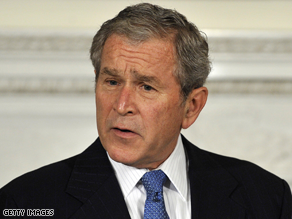 Despite
idiot liberal pols
attempts to squash his constitutional right, President Bush pardoned 14 individuals and commuted two sentences yesterday, including
rapper John Forte
:
President Bush granted 14 pardons and commuted two prison sentences on Monday, but the benefactors included none of the big names who had become the topic of speculation as Mr. Bush leaves office.


Mr. Bush has been relatively sparing in his use of pardons compared with past presidents, and the latest round of actions continued that pattern.

The closest any of the defendants came to celebrity was John E. Forté, a hip-hop artist and backup singer to Carly Simon who was convicted of aiding and abetting in the distribution of cocaine. (Ms. Simon put up the bail of $250,000 for Mr. Forté when he was arrested in 2001 at Newark International Airport.) Mr. Forté was sentenced to 14 years in prison, but Mr. Bush commuted the remainder of his sentence.

Amid a flurry of recent clemency requests that reached historic levels, a number of high-profile defendants have looked to Mr. Bush for help. They included Michael Milken, the former junk bond king convicted of securities fraud; Marion Jones, the former Olympic sprinter convicted for lying about her use of performance-enhancing drugs; Randy Cunningham, the former California congressman sent to prison in a bribery scheme; and John Walker Lindh, an American who pleaded guilty to serving with the Taliban.
Considering the hip-hop community's noted hatred for the President, I'd call this move by Bush a strong sign of class.