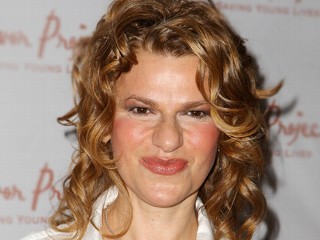 ActressArchives.com:
Comedienne Sandra Bernhard, on the other hand, recently took a somewhat darker route while doing a comedy routine about Palin, and ended up learning that there is such a thing as taking a joke too far. A women's shelter uninvited her to take part in a benefit show as a result of the routine. You know you've crossed the line when you're being asked not to take part in a good cause...

Bernhard reportedly made the joke last month while performing a one-woman show in

Washington

, shortly before Sarah Palin was due to visit New York. Bernhard told the crowd that Palin would be "gang-raped by my big black brothers" were she to visit New

York

. Hopefully Bernhard has since learned the lesson between comedy and downright creepy.





Bernhard was due to perform at the Boston women's shelter Rosie's Place as a headliner for an annual benefit. But Rosie's Place public relations director Leemarie Mosca explained that, not surprisingly, the women in the shelter don't find violence against women to be such funny subject matter. Speaking to the Associated Press, Mosca explained, "We don't think violence against women is a laughing matter. Right now, our main focus is our event and making sure the event is a success. And for us, that means not including Sandra Bernhard at this time."
You'd think that Gloria Steinem, NOW or any other member of the radical feminist Left would make at least

some

noise about a comedian publicly joking about a politician being raped. But not a peep has come out from the hypocrites, then again what should one expect from a crowd that judges women on whether or not they support abortion? Good to know someone has the guts to stand up against Bernhard's vulgar and repulsive act.