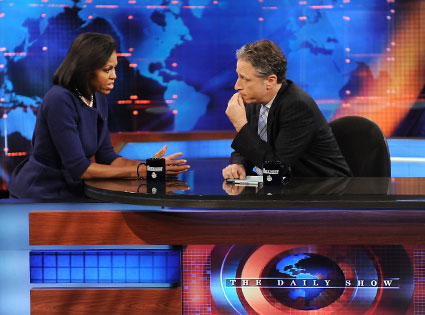 CNN.com:
McCain's running mate, Gov. Sarah Palin, has lobbed some intense attacks on Barack Obama over the Ayers issue. "Our opponent is someone who sees America as imperfect enough to pal around with terrorists who targeted their own country," Palin told a crowd of supporters this week.

King played the clip and asked Michelle Obama if that statement made her "mad."

Obama replied, "I don't watch it."

"What do you make of her running for a vice president and having many kids and being a good parent and bouncing all the balls?" King asked.

"I think she provides an excellent of example of all the different roles that women can and should play," Michelle Obama responded. "I'm a mother with kids and I've had a career and I've had to juggle. She's doing publicly what so many women are doing on their own privately. What we're fighting for is to make sure that all women have the choices that Sarah Palin and I have."
Now if only Michelle had the guts to say this directly to the dimwads in her idiot base like Cybill Shepherd and all the other hypocritical, so-called "feminist" hatemongers in the radical Left who despise Palin and thinks she's less than a woman all because she doesn't support abortion.