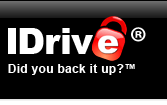 This post is sponsored.
We all know how important it is to have back-up on your computer. Whether it's for personal use, consumer use or if you're the owner of a small business, your files are not a luxury especially in these days and times of rapid computer hacking and other online scams. That said, have you heard about iDrive.com? If not, let me tell you a little something about this fabulous online back-up service that's available for both Mac and PC users. At iDrive, you are provided with a remote data back-up that literally goes behind the scenes (once you install you'll forget that it's even there) to protect your files, data, photos, music, games and all the other essential stuff that you have stored on your computer. Or in the case of small businesses, iDrive Online Backup can help your entire computer networking system. With testimonials in such noted publications such as PCWorld, taking advantage of the IDrive Online Backup exquisite $4.95 a month plan ($9.95 and 50 GB for businesses), gets you 150 GB of storage alone! iDrive Basic gives you 2 GB of backup space just for signing up!

IDrive Online Backup

Then too the IDrive Online Backup has so many great features, from archiving your files to searching and restoring data to providing users with a "virtual drive" look at their account, allowing owners to access and restore backed-up data. If you've finally come to realize that you need a quality back-up program, before your hard-drive crashes or your teenage daughter decides to clear out your files for some pictures of her new boyfriend, then make a quick visit to iDrive.com for a secure back-up system made easy and affordable.