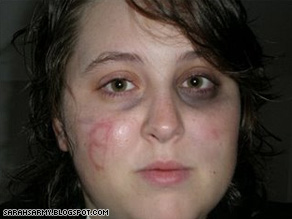 The dark side of some GOP supporters raises it ugly head again. Not that any of this should be pinned on John McCain, but Ashley Todd is a McCain volunteer, so we all know that Obama's press and all his many worshippers will run with this story and milk it for all it's worth. Just what John McCain doesn't need right now:
A Republican campaign worker who told police she was assaulted by a man angered by a John McCain sticker on her car admitted she made up the report, the Pittsburgh, Pennsylvania, assistant police chief said Friday.

Ashley Todd, 20, of College Park, Texas, will be charged with filing a false police report, a misdemeanor, and may face more charges, said police spokeswoman Diane Richard at a news conference.

"This has wasted so much time. ... It's just a lot of wasted man hours," Assistant Police Chief Maurita Bryant said at the same briefing.

The woman told investigators a man approached her Wednesday night at an ATM in Pittsburgh's East End, put a blade to her neck and demanded money, Richard said.

Police said they found "several inconsistencies" in Todd's statement and she was not seen in surveillance videos taken at the ATM. She was asked to take a polygraph test Friday morning, Richard said. The results were not made public.

Later, Todd came to the police station to help work on a composite sketch of the alleged attacker. When she arrived, Todd "told them she just wanted to tell the truth" -- that she was not robbed, and there was no attacker, Bryant said.