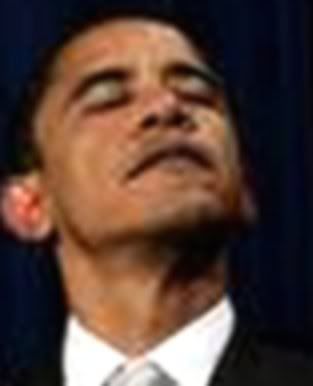 Since the liberal media and their future colleagues on the lunatic side of the blogosphere have already
declared Barack Obama
as our next President, any wonder why he's already
acting like one
?:
At the same time the Bush administration was negotiating a still elusive agreement to keep the U.S. military in Iraq, Democratic presidential candidate Barack Obama tried to convince Iraqi leaders in private conversations that the president shouldn't be allowed to enact the deal without congressional approval.

Mr. Obama's conversations with the Iraqi leaders, confirmed to The Washington Times by his campaign aides, began just two weeks after he clinched the Democratic presidential nomination in June and stirred controversy over the appropriateness of a White House candidate's contacts with foreign governments while the sitting president is conducting a war.

Some of the specifics of the conversations remain the subject of dispute. Iraqi leaders purported to The Times that Mr. Obama urged Baghdad to delay an agreement with Mr. Bush until next year when a new president will be in office - a charge the Democratic campaign denies.
Of course the Obama camp will deny it, but undermining current Presidents is something liberal Democrats love to do, heck Jimmy Carter does it almost every week. That said, undermining the Bush administration's foreign policy again speaks to Obama's well-known
penchant for being arrogance
. Remember, this is the same man who once pronounced "to know me is to love me" when he was behind Billary early on in the primary polls back in 2007. And who can forget when BO replaced the presidential seal with his own at a campaign event this year, not to mention all his rabid supporters who literally view BO as "The One". Granted, thanks solely to a weak economy, Obama has had a great last couple of weeks, but with four weeks to go I wouldn't be wiping the dirt off my shoulders just yet.