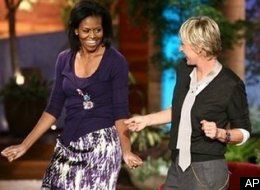 What to do if you're a liberal elitist suddenly finding your hubby behind in the presidential polls? Speak to the gay elite in sunny California and join the rest of the loony wing in going after Sarah Palin:
Obama then took the podium, and told the crowd how her daughters, Malia and Sasha, met the pop group the Jonas Brothers at the "Ellen" taping. The daughters were not present at either fund raiser.

Obama then moved on to politics, where she first brought up her husband's vice-presidential choice. "I think it was a really good pick—Senator Joe Biden," she said, and later added, "People say they have amazing chemistry, and it's true."

Obama continued with talk about Biden when she said, "What you learn about Barack from his choice is that he's not afraid of smart people." The crowd softly chuckled.
Straight from her dancing with Ellen Degeneres to talking to a group of transgender folks, most likely to let them know that a President Obama will surely stand up for "transgender rights" (like making sure more men can use women's bathrooms because yunno, gays and transgenders are just like black people in that way), Michelle Obama continues to show that she is not what anyone should want in a First Lady.