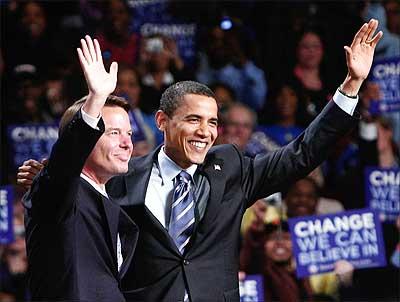 I could care less about what John Edwards thinks, just thought I'd mention this to give credit to Barack's campaign for not only putting Hillary's insignificant win in West Virginia Tuesday out of the spotlight, but actually making Edwards endorsement mean something:

WASHINGTON (AP) — Barack Obama collected the support of four of John Edwards' Democratic National Convention delegates on Thursday, then gained the backing of a West Coast congressman and a large labor union as he marched steadily toward the party's presidential nomination.

The fresh support brought Obama's overall delegate total to 1,892, compared to 1,718 for his rival, Hillary Rodham Clinton. It takes 2,026 to clinch the nomination at the party convention in Denver this summer.

Edwards, who bestowed his long-sought endorsement on Obama on Wednesday, won 19 delegates before departing the presidential race in January.

Within hours, Obama picked up the backing of three of them from South Carolina and one in New Hampshire.

In addition, Rep. James McDermott, a superdelegate, endorsed Obama. "I believe now is the time to unite behind Barack Obama so we can be in the strongest place possible to win in November," he said.