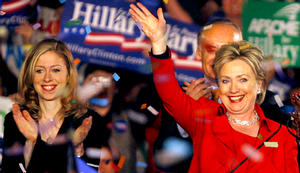 CNN
:
Sen. Hillary Clinton got her campaign back on track with projected wins in the Texas, Ohio and Rhode Island primaries.




Delegate-rich Texas and Ohio were considered must-wins for her campaign.

Obama, who claimed victory in Vermont, had won 12 straight contests since Super Tuesday on February 5.

Texas also held Democratic caucuses Tuesday, but it was too close to declare a winner.

"For everyone here in Ohio and across America who's been ever been counted out but refused to be knocked out, for everyone who has stumbled but stood right back up, and for everyone who works hard and never gives up -- this one is for you," Clinton said before supporters in Columbus.

"You know what they say," she said. "As Ohio goes, so goes the nation. Well, this nation's coming back and so is this campaign."
Personally, I blame "Saturday Night Live" too for playing right into Billary's delusions of media bias. Of course, "SNL" hasn't been politically significant for years, but the show is based in NYC and we all know that Billary has had NYC'ers in their back pockets for almost two decades now.