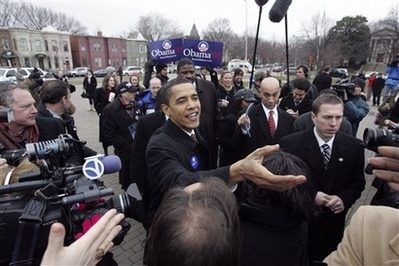 YahooNews:

Barack Obama, already claiming a "new American majority," is focusing more and more on the likely Republican candidate in the November presidential election as he continues to rack up big victories over Hillary Rodham Clinton in their race for the Democratic nomination.

Obama surged to the fore in the delegate race for the party prize with resounding primary victories Tuesday in Maryland, Virginia and the District of Columbia. On the GOP side, John McCain took another step in shoring up his credentials as the runaway Republican front-runner despite lukewarm support from the party's conservative base.

Clinton, considered the overwhelming Democratic favorite just a few weeks, was left to turn her attention to Texas and Ohio in an attempt to pump new life into her suddenly stumbling campaign.
The lesser of two evils theory has me rooting for Barack only because I'd love to see him put a huge nail in the coffin of the Billary machine (realistically I'm almost certain that Billary would come back in 2012 if Barack were to lose the general election vs. John McCain). So despite his sweep of Virginia, Maryland and DC yesterday, Barack still needs to recall the last time he had this much "momentum" and not take Billary for granted for even a nanosecond. For Billary is not only more experienced at this game, but more cunning, ruthless, driven and often shameless. Stay the course Barack, but sleep with one eye open.